Mercy, mercy understand…need less drowning, more Matt Nathanson!
This show felt like one of the most anticipated shows I've gone to all year. Not just from my personal geekdom of being able to tape one of my favorite artists, but from the fact that the show had been sold out for months. Not to mention that while we got there around 5 minutes after doors, the place was already packed. I'd only ever been to The Oriental Theater for Phish streams, so I wasn't quite sure what to expect for a sold-out singer-songwriter crowd, but the Matt Nathanson fans certainly showed up to enjoy a night of music and storytelling.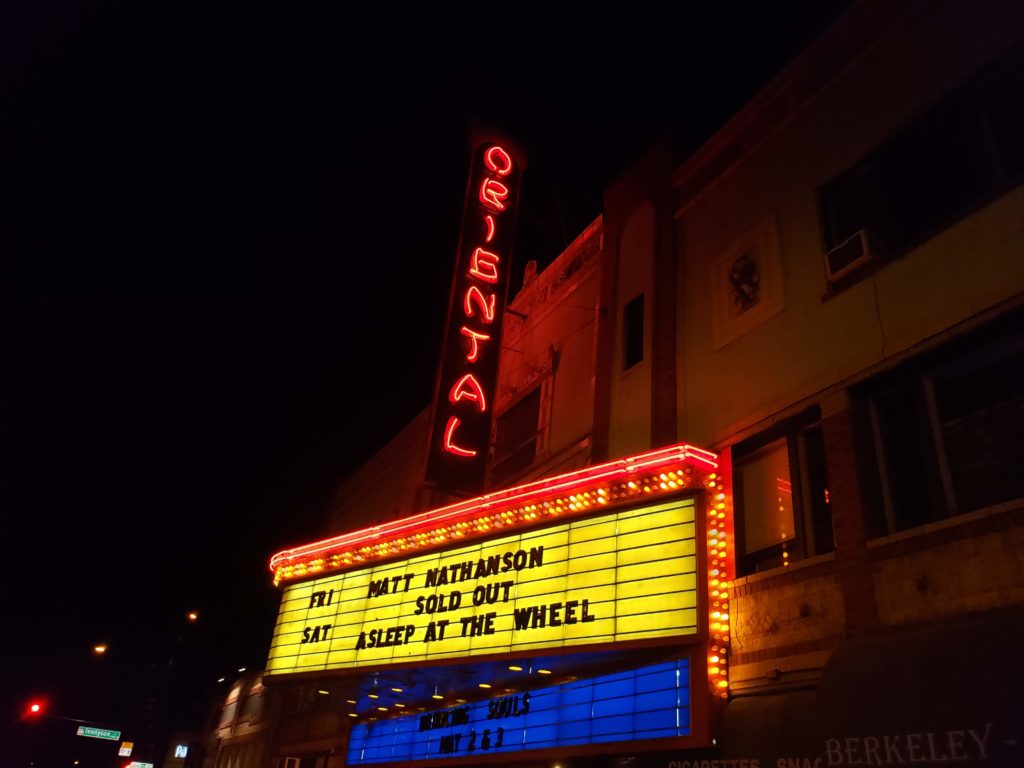 This tour, Matt brought along longtime guitarist Aaron Tapp to help with backing vocals and guitar or piano work. He also brought along the song wheel, which is a large prize wheel with different categories on it that dictate what song he will play next. In a career spanning more than 20 years and 10 albums, Matt has a gigantic catalog to choose from, and that doesn't even include his live album, various EPs, and a large assortment of cover songs that have become staples of his live performances. He changes his set lists every single show, and the wheel adds even more variance to his set lists, resulting in shows that are always incredibly unique. Not to mention, he's incredibly funny and is able to engage a crowd just as much with his comical storytelling as he is with his melodic songwriting. All this… and the guy is taper friendly! What's not to love?
The show kicked off with Matt and Aaron walking out to the theme from the TV show The Greatest American Hero, a song that I don't think any die-hard Seinfeld can hear without juxtaposing the George Constanza lyrics. After explaining his current sickness and the premise of the first song, for all the people who "have dated someone who are now dating someone else and you only want them to have a certain amount of happiness," Matt kicked into "Way Way Back", which is the second track of his newest record "Sings His Sad Heart". Having seen Matt with both a band and solo, there is a certain charm to the solo show, unconstrained by the four other members' ability to play the humongous catalog of music that Matt has. However, there are several songs that benefit from the creative riffs and back-up harmonies from Matt's studio work that really show Aaron Tap's presence as the best of both worlds. Songs like "Pretty The World", which features an intro that is infinitely more powerful with its backing rhythm, "Kinks Shirt", which features beautiful vocal harmonies as well as his solo in the break section, and the piano work in "Used To Be", or even the subtle textures added by the electric work in "Different Beds", all contributed just the right amount to each song.
The wheel provided several of the biggest highlights of the evening. The first spin resulted in "Angel > I Saw" a duo which opened his record "Beneath These Fireworks" and contains the controversial line that Taylor Swift allegedly plagiarized, "I'll forget about you long enough to forget why I need to". When explaining the wheel, Matt described as a song he "apparently wrote with Taylor Swift and I didn't even know…". The second spin came right after and actually landed back on "Angel > I Saw". Matt said that had happened once before except that time it landed on the same place three times in a row. Luckily for us, second time was a charm, and the wheel landed on "Cover", which resulted in a beautiful take on Prince's "Little Red Corvette". Next spin, the wheel brought what Matt described as one of his only positive songs, the endearingly hopeful "Little Victories", a song so nice he recorded it twice, once for indie release "Still Waiting For Spring" and again for "Beneath These Fireworks". The final spin garnered two songs after a polarized response to "Sky High Honey". After asking the crowd if they actually wanted "Mercy", he decided to play them both. An audible on an audible wheel, I love it. The show even closed with a poignant cover of Dire Straits' "Romeo & Juliet", a song which wasn't even on the set list.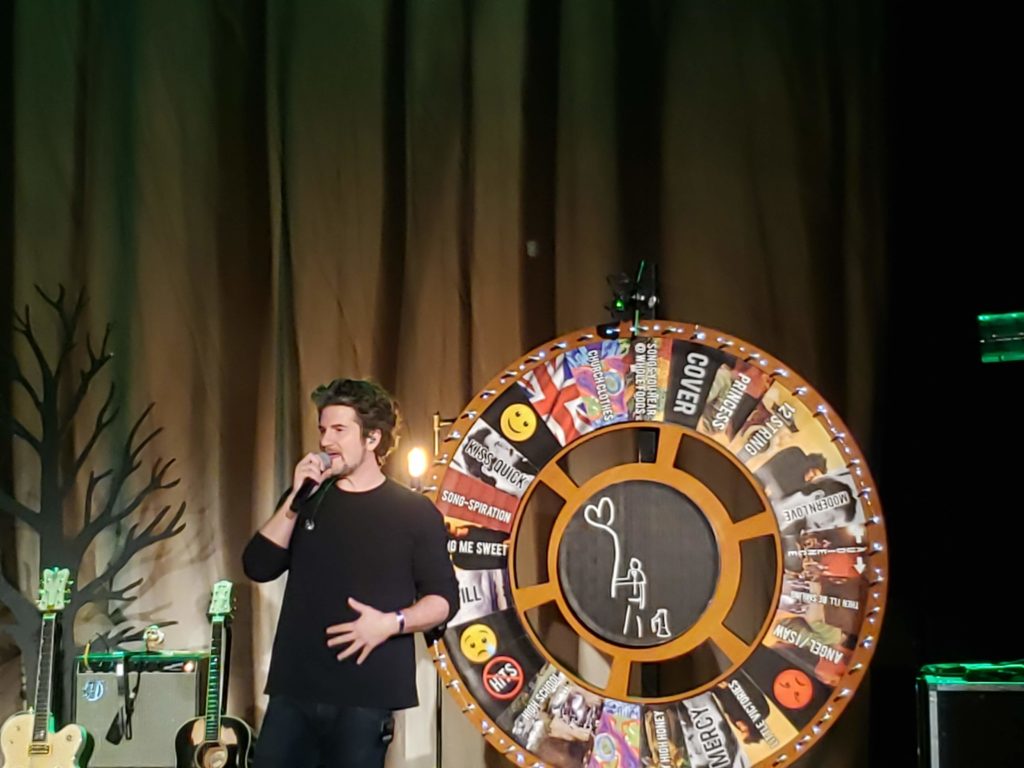 Matt Nathanson provided a show full of new material, old material, covers, jokes, and story after hilarious story. A completely unique experience that often times is reserved for jambands but shows an incredible respect for his audience and strength of his multi-decade songwriting repertoire. On a personal note, he was one of the first artists I ever found on archive and introduced me to the concept of live concert taping. The fact that he is still taper friendly after all these years is incredible and another testament to the uniqueness of each show. I only wish there were more nights in Colorado, I would have hit them all.
Matt Nathanson | 2019-03-15 | The Oriental Theater, Denver, CO
-= One Set =-
01. (Intro)
02. Way Way Back
03. Pretty The World
04. ("Devil's Concoction")
05. Different Beds
06. ("Laides And Gentleman It's Time For The Wheel")
07. Angel >
08. I Saw
09. ("Let's Spin The Wheel Again")
10. Little Red Corvette (Prince cover)
11. Kinks Shirt
12. ("You Haven't Lived Until You've Written A Song About Sex")
13. Run
14. ("This Guitar Is From The Day's Of The Lion's Den")
15. Answering Machine
16. ("Alright It's Time For The Wheel")
17. Little Victories
18. ("Spin The Wheel")
19. Mercy (false start)
20. Mercy
21. Sky High Honey[1]
22. Long Distance Runner
23. Suspended (false start) / ("My Kid Wrote Shirt But It Looked Like Shart")
24. Suspended
25. Used To Be
26. ("I Feel Like We're Past The Superficial Walk-Off")
27. Faith (George Michael cover) >
28. Faster[2]
29. ("Let's Do This One And Then I Have An Idea")
30. Come On Get Higher
31. Romeo & Juliet (Dire Straits cover)
Show Notes: This show was a part of the "Sings His Sad Heart Live + Acoustic" tour and was sold out. Blu Sanders opened the show. The intro music was the theme from The Greatest American Hero (TV Series).
[1] The lyrics of "Sky High Honey" were changed to "No more late night drives to Aspen. No more Big Head Todd songs to get lost in".
[2] "Faster" contained "Kiss" (Prince) quotes in the outro.
Taper Notes: Stage left of the soundboard and light booth, almost in front of the stage-left stack. Mics raised around 8′ PAS.
Thank you to Matt Nathanson and The Oriental Theater for supporting taping/trading shows. Go see live music and tip your bartenders! #spacetapes
LINK: https://archive.org/details/mnathanson2019-03-15.AKG.P170.AUD.flac16
If you dig it - share it!